Location, Location, Location
Selecting the right location for your home office is critical.  Chances are that you already use a computer at home and have set up an area for the computer, printer, etc.  However, using a computer for personal use is substantially different from using it for business purposes.  A business office requires a private environment, with no traffic and noise.  While I realize that many of you have space limitations, particularly those of us that live in an apartment, you need to avoid an area that is a walk through, has a dishwasher running and other diversions.  Pick a bedroom, if necessary, and close the door while you are working.
Once you have decided on a location, be sure that you have Internet access.  Most of you probably have a wireless network at home.  If this is the case, there is no limit on how many computers can access the Internet through the network.  You don't need a separate account with an additional modem and router. The main issue is whether you can obtain a strong signal in your designated work area.  The range of a wireless network is several hundred feet.  However, thick walls and floors such as those that exist in prewar (World War 2) structures will encounter "dead areas."  If this is the case, boosters can be installed to carry the signal to your office area.
Now that you have selected a nice quiet, remote area to work, desk location needs to be addressed.  You don't want to face a window or have it in back of you.  The glare from the outside will make it very difficult to see the monitor.  Although it would be nice to be able to view the park and the birds, make sure you are either facing a wall or have it behind you. Do not take this advice lightly!! An acquaintance of mine told me that she had her desk in front of a window with a marvelous view for years. Now her eyesight has deteriorated.  Make sure you avoid excessive light and glare.
Have you created a Technology Plan?
Take an inventory of your existing equipment at home and determine what is usable and what needs to be replaced.
If you currently share a computer with other members of your household, consider buying one for yourself.
Find a place in your home to work without background noise and traffic.
If you don't have wireless Internet access at home, have one set up so multiple computers have Internet access simultaneously.  Make sure your wireless network is strong in your work area and secured with a password.
If you only have one e-mail address, set up another for business purposes only.
Consider purchasing an all-in-one printer, scanner, copier, fax machine if you don't already have one.  If it is wireless, there is no need for more than one printer.
Don't bother adding another telephone line at home for business purposes.  Use your cell phone.
Since you no longer have a corporate support line to call, find a reliable tech support person and set up a maintenance program for your equipment.
Since recent surveys indicate that 3 out of 5 people find that they spend more time working outside their office, consider upgrading to a smartphone (blackberry, iphone, or android) which will give you access to your e-mail and the Internet on the road.
HOW GOOD ARE YOUR TECHNOLOGY SKILLS?
Looking to start a new business?  Are you in the job market?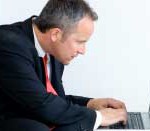 Chances are that if you previously worked for a company and had an assistant, many tasks were delegated and support was just a phone call away.  Whether you are starting a new venture or looking for employment, your success will depend on your basic computer skills and having a technology plan that supports your efforts.
The majority of Baby Boomers did not start their professional careers in the digital world.  The way we communicate and acquire information has changed dramatically.  Social networks such as LinkedIn, Facebook, and Twitter are now part of our personal and business lives.  Cell phones have made us more mobile and reachable everywhere.  Everyone uses Google to find people, places and things.
Set some time aside and take an inventory of your basic technology skills.  Are you able to retrieve and save e-mail attachments, search through past e-mails?  Are you able to type and format documents?  Are you able to locate your documents?  Are you able to make educated decisions about your equipment?  Do you know how to use a smartphone?  The list is endless.
Individuals and companies that have not embraced technology will find it very difficult to compete in today's global and wired world.