HOW GOOD ARE YOUR TECHNOLOGY SKILLS?
Looking to start a new business?  Are you in the job market?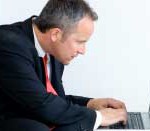 Chances are that if you previously worked for a company and had an assistant, many tasks were delegated and support was just a phone call away.  Whether you are starting a new venture or looking for employment, your success will depend on your basic computer skills and having a technology plan that supports your efforts.
The majority of Baby Boomers did not start their professional careers in the digital world.  The way we communicate and acquire information has changed dramatically.  Social networks such as LinkedIn, Facebook, and Twitter are now part of our personal and business lives.  Cell phones have made us more mobile and reachable everywhere.  Everyone uses Google to find people, places and things.
Set some time aside and take an inventory of your basic technology skills.  Are you able to retrieve and save e-mail attachments, search through past e-mails?  Are you able to type and format documents?  Are you able to locate your documents?  Are you able to make educated decisions about your equipment?  Do you know how to use a smartphone?  The list is endless.
Individuals and companies that have not embraced technology will find it very difficult to compete in today's global and wired world.