Your throat hurts and your fever reaches 103 degrees.  You call the doctor.
The water pipe breaks in the bathroom.  You call the plumber.
Your car is smashed. You call the insurance company.
You need to buy or rent.  You call a real estate agent.
And the list goes on and on ……….
When your computer stops working, most likely you have someone you can call for basic computer help; a family member or a local techie.  Do you get voice mail? What is their response time?
Techies do an excellent job of repairing what is broken.  But who do you call if you need to make a major purchase? In the market for a new computer or printer, or simply need advice on a new product?  Whom do you call?? Determining whether your technology supports your personal or business needs is another matter.
What you need is a Technology Concierge, someone you can call at anytime to discuss a range of issues ranging from why your computer may be sluggish, buying a new cell phone, getting an opinion about the new I-Pad, or finding out how Social Media can build your business.  Your time is important to you.  So many options to consider!
Technology plays a major role in all our lives.  Thousands of dollars are spent on equipment and services.  Making sure that you make the right decision is time consuming and requires a degree of knowledge that is beyond the average person.
For over 15 years, I have advised clients on all issues regarding their technology.  My business background uniquely qualifies me to understand your individual needs, making sure that ALL your equipment and services are both state of the art and cost efficient.
As your Technology Concierge, I can be your time saver and probably save you a considerable amount of money by just having a telephone conversation with you.  If necessary, a visit to your home or office can be scheduled to assess your needs in greater detail.  In addition, if technical assistance is necessary, I have a team of professionals that are available, in a timely manner, to handle any issues that might arise.  As your Technology Concierge, you may call me anytime; weekdays, evenings and even weekends, for advice on anything that is on your mind.
To discuss how you can have your own personal Technology Concierge, I can be reached by phone 917 921-4518 or by e-mail at jblue@bluetutor.com.
Thousands of companies, large and small, have set up online stores. Companies that have retail outlets (Bloomingdales, Costco, Target, Staples, etc.) offer specials and coupons online. Manufacturers that used to sell just to stores, now sell directly to you online.
Online only companies such as Amazon, Fresh Direct, etc, operate with no physical storefronts and little or no inventory and pass much of the savings on to you. The savings can be great.  Online buying is a time saver.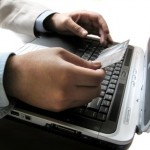 Why you should be shopping online?
–  Saves time
–  Can shop any time of the day
–  Avoid large crowds
–  No checkout lines
–  Ability to comparison shop
–  Don't have to go from store to store to find what you need
–  find things easily
–  Usually less expensive. People like to buy at wholesale
–  Possibility of Free Shipping
–  Coupons
To listen to my podcast of why you should be be shopping online, click on the link below.
More than likely, you or your family will be traveling sometime during the summer.  Whether it is a vacation or business trip, you will have to make a few decision about what type of electronic gadgets, mobile devices, computers, etc. will have to accompany your clothes.
Gone are the days when it was possible to disappear into the mountains, travel abroad or just be out of contact.  Airports are now wired, most hotels have some type of Internet access and mobile cell networks are available all over the world.
What you need to take with you depends on what degree of accessibility is important to you.  Listen to my podcast before you decide to unplug everything and stuff them in your suitcase.  You may be surprised how you can travel lightly and save money in the process.