Wikipedia describes Malware as any software intentionally designed to cause damage to a computer, server or computer network.
PC Mag reports that the following are the most common signs that your computer has been infested with Malware.
Popup Ads Start Popping Up Everywhere
Your Browser Keeps Getting Redirected
An Unknown App Sends Scary Warnings
Mysterious Posts Appear on Your Social Media
You Get Ransom Demands
Your System Tools Are Disabled
In addition to having an anti-virus program (with the latest updates) installed in your computer, a strong malware program such as Malwarebytes must be installed as well.
Are your friends complaining about random e-mails from you containing only a link or asking for money since you have been stranded on some remote island? If so, chances are that your e-mail program has been "hacked," meaning that someone has accessed your contact list and sent messages to everyone on your list. Here are some simple rules to follow to minimize the risk that this will happen to you.
1. If you have been hacked, change your password immediately. Don't use simple passwords such as birthdays, phone numbers or family names. Use a combination of letters, numbers, and symbols.
2, Change your password frequently; monthly, if you are using AOL
3. Do not use the same password for your e-mail program, online banking, or shopping sites like Amazon, Ebay, etc.
4. When accessing the Internet on the road, be sure that the wi-fi location is secured. Places like hotels, parks, and coffee shops like Starbucks, are not secured since everyone has access to their networks. You do not want to enter passwords, credit card info, or other personal information in a non-secured area, since you are using a public access point.
5. If you are using a Windows computer, make sure you have installed both an anti-virus and malware program and that they have been updated.
If you any questions about "hacking" or other maintenance issues, feel free to contact me either by phone at 917 921-4518 or by e-mail at jblue@bluetutor.com/bluetutorold.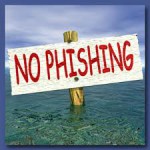 Have you responded to e-mails or text messages requesting personal information such as passwords, bank account information, credit cards, or social security numbers?  Has your e-mail account been compromised or is your computer now infected with one or more viruses.  If so, you have been victimized by one of the biggest Internet scams called "Phishing."
Wikipedia defines phishing as "an attempt to acquire information (and sometimes, indirectly, money) such as usernames, passwords, and credit card details by masquerading as a trustworthy entity in an electronic communication. Communications purporting to be from banks, popular social web sites, auction sites, online payment processors, etc. Phishing is typically carried out by e-mail spoofing or instant messaging and it often directs users to enter details at a fake website whose look and feel are almost identical to the legitimate one."
Here are some tips on how to avoid phishing.
– Do not respond to any email with urgent requests for personal financial information.
– Avoid filling out forms in email messages that ask for personal financial information.
– Do not click on any links in an email, instant message, or chat that leads to a web page if you if you do not know the sender.
– Log in to your online accounts (banks, Ebay, Amazon, retailers) regularly and check for suspicious activity.
If you think you have been a victim of phishing, be sure to:
– Notify your bank if you have given out any credit card information. Cancel your account and open up a new one.
– Report the theft to the three major credit reporting agencies, Experian, Equifax and TransUnion Corporation, and request that they place a fraud alert and a victim's statement in your file. Request a free copy of your credit report to determine whether any new accounts were opened without your consent.
– Change your passwords to your online accounts including your e-mail account.
– Make sure your anti-virus program is up-to-date and run a scan of your computer.
If you feel you have been a victim of phishing or your computer appears to be infected with a virus, do not hesitate to contact me at 917 921-4518 or by e-mail at jblue@bluetutor.com. Feel free to click here to receive my NEW white paper, "TIPS ON BECOMING A TRUE MOBILE WARRIOR"