7 Questions You Should Be Asking Yourself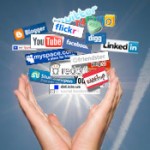 1.  Are you using social media for both personal and business purposes?
2.  Do you have a social media strategy for your business?
2.  Have you integrated social media into your marketing plan?
3.  If you are one of the 700 million plus Facebook users, have you set up a separate business page?
4.  What sites are you using: Facebook, LinkedIn, Twitter, YouTube, Tumblr, Foursqure, etc.?
5.  Are you  interacting with your contacts and groups on a regular basis?
6.  Are you using sites such as Google Analytics to evaluate your social media strategy?
7. Are you able to manage your social media program or do you need to hire a "cyber ghost assistant" in order to devote time to running your business?
Remember, a successful social media program is one that has been customized to fit your specific needs.  Make sure your goals are clear before jumping into the social media waters.
If you would like to discuss how to set up a social media plan,  do not hesitate to contact me by phone at (917) 921-4518 or by e-mail at jblue@bluetutor.com.
In addition,  click HERE to join my mailing list and receive my FREE whitepaper on setting up a home office and becoming a true road warrior.