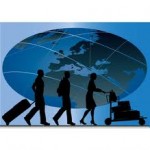 1.  Check with your mobile phone provider (Verizon, AT&T, Sprint, etc.) to see if your phone will work in the country you are visiting.
2.  Make sure that you tell your provider that you are traveling internationally.  Some offer international data plans (e-mail, Internet access, messenger services).
3.  Some mobile providers are placing limits on "unlimited plans."  Make sure you understand how you will be billed.
4.  Inquire whether your phone can use a SIM card.   SIM cards are small removable smart cards that are used in many cell phones. These cards are used to store  your mobile phone number and address book contacts.  Not all phones can use SIM cards so contact your service provider.
5.  Since placing and receiving calls on your phone while overseas is expensive, you might want to consider renting a local phone for the country or countries who are visiting.  These phones can be rented in the US before you leave.
Below is a link to an article that appeared in today's Wall Street Journal with some excellent suggestions on how to save money while abroad.
If you have any questions about how to control your communication costs abroad, do not hesitate to contact me at 917 921-4518 or by e-mail at jblue@bluetutor.com.