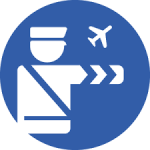 Want to breeze through US Customs and passport control?
Now there's a free app, mobile passport, that lets you fast track through customs. Travelers with a smartphone or tablet can download the Mobile Passport Control app from the Apple App Store or Google Play Store. With the Mobile Passport App, you can skip the long lines at US airports for Custom and Border Protection (CBP).
The Mobile Passport is authorized by U.S. Customs and Border Protection.  Just fill out your profile, snap a selfie, and answer CBP's questions – then go straight to the "Mobile Passport Control" express lane at the airport!
Geoffrey A. Fowler in a recent article in The Wall Street Journal reviewed the program.
The website of the Department of Homeland Security contains answers to frequently asked questions such as:
– Who can use Mobile Passport
– Does Mobile Passport replace your passport
– Do you have to fill out a customs declaration form
– Will you still have to go through processing lines
– Is the Mobile passport app secure